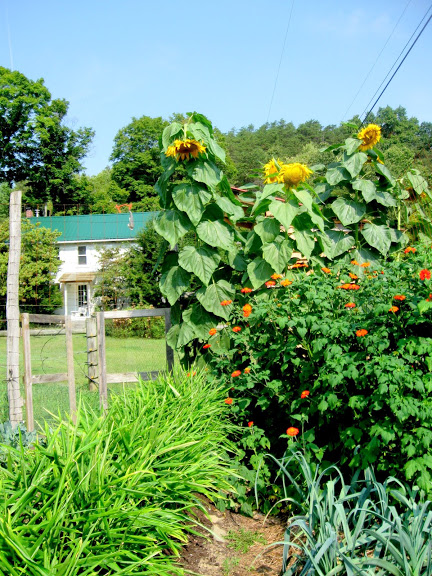 Ahimsa is an evolving vegan homestead and education center located near State College, PA. We seek to build a more peaceful and sustainable world through our living example and through education about the importance of a vegan diet, the benefits of veganic gardening, and empowering others along the path to making the transition. Our current activities focus on home-based food production including vegetables, fruits, nuts, mushrooms, and maple syrup. We are happy to host visitors, give tours, and work with small groups to host educational workshops centered on vegan living and eating. Please email us at veg @ ahimsavillage.org
Village News


Visit our vegan homesteading blog.
A Guide to Vegan Nutrition by George Eisman (revised and republished edition now available) - George and Claire are good friends and supporters of Ahimsa Village. They have recently revised and updated George's invaluable book on vegan nutrition. Details here.
World Peace Diet Book Discussion Group - learn about the World Peace Diet (a book written by Will Tuttle) by getting involved with our book discussion group. We meet 1-2x per month. Learn more.
Cottage for Rent - we have a small one bedroom cottage for rent on the property. Perfect for a hiker and/or gardener. Learn more.
Compassion Club Book Now Available - Kelle's book based on the research she did for her Master's in Humane Education degree is now available. The book's title is "Compassion Club: Nurturing the Compassion of High School Girls Through Activism." The book is a handbook for establishing Compassion Club, an after-school club for high school girls that will nurture their compassion through active involvement in meaningful environmental, animal rights, and/or human rights issues. Click here to order book via Amazon.
Central PA Vegans - vegan potluck meets monthly in members' homes in and around State College. We always have great conversation, great vegan food and often an educational program about veganism. If interested please join our group.