Archived Page - Information is not current
Education Program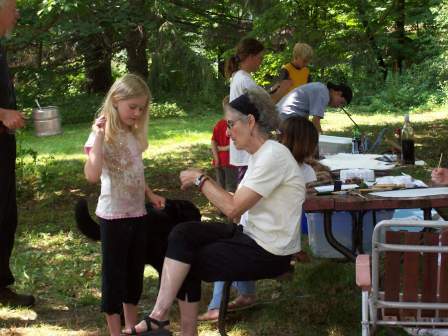 The educational programs of Ahimsa Village are based on natural earth cycles. We try to incorporate experiential learning into all that we do. We feel that this is the only way to start to reconnect with the natural world.
Philosophy | Summer Camp | School Tours | Resources | Contact
Our educational philosophy is based on the following principles:
Nurturing seeds of compassion
Offering subject-centered and group learning experiences
Using world as an educational resource
Valuing and encouraging the manifestation of unique gifts
Giving youth the responsibility for their own learning
Encouraging youth to be curious about their world and to strive for deep understanding
Teaching problem-solving skills
Enhancing connections of all kinds
Offering educational programs that are specifically designed to guide youth toward living more compassionate, harmonious, engaged, and empowered lives
Helping youth develop into whole human beings and find meaning in their lives
Ahimsa Village conducts a yearly summer camp for youth 12 - 18. This day camp features creating art and crafts from natural materials, gardening, swimming, hiking, environmental education projects and other outdoor educational activities. Click here to view pictures from the 2007 camp. Please visit the summer camp web page to learn more.
We are available to give tours of Ahimsa Village and the surrounding fields and woods to school groups. Please contact us to learn more.
Books
Dalai Lama. (1995). The power of compassion. San Francisco: Thorsons.

Donnelly, J. (2002). Educating for a deeper sense of self: Understanding compassion and engaged service. In J. P. Miller and Y. Nakagawa (Eds.), Nurturing our wholeness: Perspectives on spirituality in education (pp. 304-317). Brandon, VT: Foundation for Educational Renewal.

Hart, T. (2009). From information to transformation: Education for the evolution of consciousness. New York: Peter Lang.

Kielburger, C. (1998). Free the children. New York: HarperCollins, Publishers.

Kielburger, C., Kielburger M., & Page, S. (2009). The world needs your kid. Vancouver, BC: D & M Publishers.

Krishnamurti, J. (1953). Education and the significance of life. New York: HarperCollins Publishers.

Littky, D. (2004). The big picture. Alexandria, VA: Association for Supervision and Curriculum Development.

McCain, T. (2005). Teaching for tomorrow. Thousand Oaks, CA: Corwin Press.

Miller, J. P.(2006). Educating for wisdom and compassion. Thousand Oaks, CA: Corwin Press.

Palmer, P. (2007). The Courage to teach. Hoboken, NJ: John Wiley & Sons, Inc.

Stoddard, L. (2004). Educating for greatness. Brandon, VT: Holistic Education Press.

Uhl, C. (2009). Teaching as if life matters. Unpublished manuscript.

Van Matre, S. (1990). Earth education. Greenville, WV: The Institute for Earth Education.

Weil, Z. (2004). The power and promise of humane education. Gabriola Island, BC: New Society Publishers.
Web Sites
School of Living- http://www.schoolofliving.org
Institute for Humane Education http://humaneeducation.org
Free the Children- http://www.freethechildren.com
Me to We- http://www.metowe.com
Kids Making a Difference- http://www.kmad.org
Youth Leadership Institute-http://www.yli.org
Hardy Girls Healthy Women- http://www.hardygirlshealthywomen.org
Please contact Kelle at magicjubilee at yahoo . com to discuss how Ahimsa Village can work with your group.