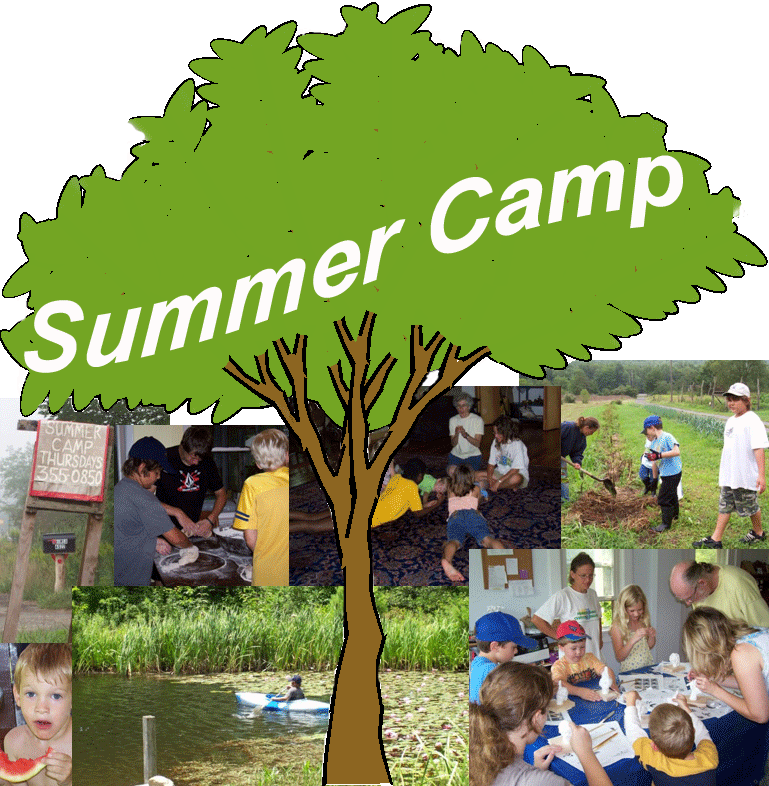 Archived Page - Information is not current
No Summer Camp for 2012 - Info below for reference only. Thanks!
Kelle's new book featuring many of the activities she used in her summer camp is now out!
Summer Camp 2010: June 22 - Aug. 24
To enhance connection of youth with the earth, plants, animals, and each other and to teach ways of maintaining these interconnections in the midst of materialistic and individualistic influences.
About | Activities | Biographies | Registration | Scholarships
Philosophy: We strive to create a deeper understanding and concern for the natural world through a program that stresses enjoyable and active, hands-on learning. We believe that experiential learning will enable children to make intelligent decisions relating to the future of our planet. We value life-long learning and the renewing aspects of nature.

Structure: Camp is once a week, every Tuesday from 9am - 4:00pm starting June 22 for 10 weeks. The program has educational components with sessions building on each other sequentially. We request that youth commit to all or most of the sessions to get the most out of the program. We provide a healthy vegetarian lunch incorporating local and organic foods as much as possible.

Cost: $100 for 10 weeks if prepaid in full, otherwise $12 per week. Fee includes nutritious lunch and snack. A limited number of scholarships are available upon request.

Ages: 8-15 year old boys and girls

What to bring: Hats, sunscreen, long pants, shorts, swimming suits, towels, water bottle, daypack, gardening gloves, jackets, rain gear. PLEASE LEAVE ALL ELECTRONIC DEVICES AT HOME.

Activities: Gardening, construction, music-making, cooking, baking, hiking, science and environmental education, yoga, dance, community-building activities, art, and more. A list of possible activities is below.
Cooking
Bread making from grain to bread.
Summer garden pizza
Wild berry pie
Gardening
Arts and Crafts
Soap making with natural ingredients
Natural paper making
Painting
Pottery
Nature art
Construction
Music making
Environmental Education
Wilderness awareness and skills
Investigating consumerism
Water studies
Macroinvertebrates
Creek hikes
Listening activities
Exercise
Yoga
Creative dance
Group games and team building
Trust activities
Hiking
Community Building
Science
Tree identification
Wildflower ID


Facilitator Biographies:

Kelle Kersten has almost 10 years of experience working with troubled children and youth. She worked as a tutor at a state juvenile justice youth camp for teenage boys in the mountains of western Maryland and presented a lesson on black bears and on the identification and use of wild plants. Kelle worked as a child care worker/counselor at a group home for adolescent boys near Allentown, PA, where she coordinated a organic gardening program with the Rodale Institute for three years and served as cub scout leader for two years. She regularly planned environmental education activities for the boys. Currently she works as a relief counselor at Centre County Youth Services Bureau's four residential facilities. In addition, Kelle has over 15 years experience as an organic farmer. She is an organic farm inspector and manages a small market garden.
Sara Hiller: I am a 2010 Lewisburg High School graduate and have a genuine love for the mountains, rivers, people, and plants of Pennsylvania. Although my roots run deep in this area, I have also lived in both New Zealand and India and greatly enjoy learning about other cultures yet seeing how people everywhere share a universal humanity. I am an ethical vegan and a yogini and am very interested in the wellbeing of all sentient beings. The Earth never ceases to amaze me and I plan on dedicating my life to creating a sustainable and peaceful planet, starting by attending Warren Wilson College in Asheville, NC a year from now.
Jen Nadenicek - bio coming soon!
Cole Hons is a writer, musician, multimedia producer and events organizer with a passion for the eco-spiritual. In addition to working in higher education outreach at Penn State for nine years, Cole has had a number of experiences working with youth. He was a camp counselor during summer break while in college; developed an original "music and make-believe" program as a pre-school teacher just after graduating; and co-taught a course in non-violence to middle-schoolers in the State College Area School District, through the State College Women's Resource Center. Cole's YouTube video series for Penn State, "The Urban Side of Green," focused on local, sustainable food production. The "Awakening the Dreamer, Changing the Dream" Symposium Cole brought to PSU in 2009 presented a holistic approach to ecological sustainability, social justice, and spiritual fulfillment. And Cole's work with the International Council of 13 Indigenous Grandmothers has helped advance the consciousness of ecological reciprocity in Central PA. Cole lives in State College with his wife, two sons, mother-in-law and two cats.